How to Reduce Costs & Boost Productivity with Productiv
[vc_row][vc_column][vc_column_text]
Software, software, software — much like the location mantra chanted by real estate agents, software is arguably a business's most important weapon. SaaS management software ensures your software as a service applications simplify daily operations in a cost-effective way, improve employee productivity, and give you a competitive advantage.
But is there such a thing as having too many software as a service apps?
The simple answer is yes — when those tools overlap, are underutilized, or inhibit the very productivity they were chosen to create.
Where Software-as-a-Service Falls Short
The Software-as-a-Service (SaaS) model has taken over – and understandably so. Instead of buying single edition software products outright, companies have more flexibility when it comes to licensing for all their users and maintaining the most up-to-date version of their software.
But despite these advantages, the SaaS model has also complicated the work of IT pros, cost controllers, and business leaders. It's becoming increasingly difficult for companies to keep track of all their subscriptions and tools, not to mention the associated costs and how teams are using the tools they've been given.
Data points to growth as a leading cause of new apps and tools being added. As a company grows, the number of SaaS tools they use increases linearly.
But this could also be a signal of redundancy and inefficiency. Instead of adding seats to tools you already have, companies often wind up with multiple software tools that serve the same purpose.
This problem may be further compounded by the effects of COVID-19. As more companies allow employees to work from home, investing in SaaS tools has never been more urgent.
Even before the sudden and widespread shift to remote work, companies had no easy way of knowing when one or more of these tools aren't being used by their employees, or exactly how many software tools they're paying for that could be cut from their expenses without sacrificing productivity or results.
Calculating the True Cost of SaaS
The complexities of too many SaaS subscriptions are multifold, which makes it difficult to calculate the true cost of your software investment. It's not just a matter of ticket price, but also the overall value you receive and the potential losses related to productivity and incorrect license size.
Loss in Productivity
For starters, most SaaS products are designed to fill one specific need for a specific user role. You might have one tool for accounting, one for email marketing, one for collaboration, etc. This is still the case when you have holistic business management systems like ERP and CRM, as these systems help you maximize your existing software applications.
However, switching between too many apps can take a toll on productivity. A 2017 report, The False Promise of the App Economy, shows that it takes employees an average of 16 minutes to refocus on a task each time they're interrupted or need to "switch gears." App overload is a cause of this, and limiting your tech stack to the most important tools can buy back some of your employee productivity.
Companies should also consider that some users may be doing the same task in different places. For example, when sharing files with others, Dropbox, Google Drive, and the email inbox can all fulfill the purpose. A lack of systematization can create unnecessary friction, not to mention adding guesswork to the process. Users lose precious minutes and focus when trying to track down items that would be more easily found in one standard place.
Incorrect License Size
Many SaaS products charge you by the user, similarly to licensing rights with traditional software products. If you're a business that maintains a relatively stable workforce, with roughly the same number of employees in the same roles at any given time, then per-user subscriptions aren't much of an issue.
But for businesses with workforce volatility, the unnecessary costs can add up quickly. As employees leave or change roles, their SaaS licensing needs change, too. When companies eliminate positions, they don't always think to also eliminate the associated ongoing costs of those positions, specifically in terms of software subscriptions.
Something else to consider is the license itself may change as the provider adds new features or services. Over time, a license may no longer fill your needs like it used to.
Lack of Intended Value
Last but not least, companies must also consider whether the software products they've chosen to invest in are fulfilling their intended purposes. Software is only as effective as the people using it, and if some tools are being underutilized, companies could better allocate those funds into something more effective.
These challenges make it difficult for companies to calculate the true costs of their software investments. It's not just a matter of coming up with a bottom line dollar figure, but rather being able to determine with confidence that these expenditures are worth the investment in terms of adoption, productivity, and results.
Best SaaS Management Software: Advantages Across the Enterprise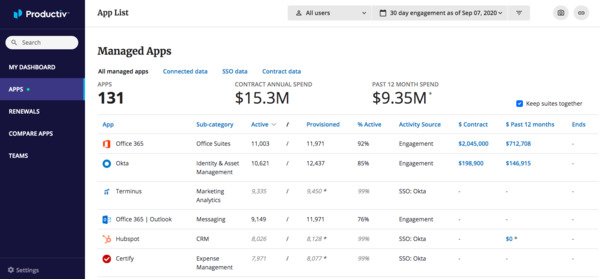 Manually managing SaaS applications can easily become a full-time job among companies with 200+ employees. It's not just a matter of knowing which services you've invested in, but also the number of users per tool and whether those users are actively using those tools for the right purposes.
In response, many organizations are turning to SaaS management tools, like Productiv, to take a proactive approach to software subscriptions.
Here's a closer look at how Productiv is upping the ante for SaaS across the enterprise:
Manage SaaS Sprawl
Before you can decide whether you have too many SaaS products or determine their usefulness, you first need to understand what products you have. Most organizations have no simplified system for tracking their SaaS subscription costs, the number of licenses or users, or renewal periods. And without an easy management system, businesses are forced into the costly, time-consuming, and potentially error-filled methods of manual tracking.
Instead of relying on spreadsheets and Word docs, Productiv takes a data-driven approach to SaaS management.
It reviews all of your SaaS subscriptions, renewal dates, and spend, as well as engagement rates that look beyond login data alone. What's more, it can send you alerts when licenses are running low so you can make adjustments in your budget.
As a visual platform, Productiv SaaS management software paints a realistic picture of your SaaS portfolio that includes financial data and user engagement in a single snapshot. And because its insights are based solely on your company's unique data, it gives you the clearest picture as to how tools are being used and the most used features of each tool so you can make improved decisions moving forward.
Reduce SaaS Costs
A recent Business @ Work report from Okta found that companies deploy 163 apps on average, an increase of 68% over the past four years. For 9% of larger organizations, that number jumps to over 200.
Today's fragmented work environment often creates multiple billing owners for SaaS products. Billing owners are the people responsible for purchasing the software tools and managing the subscriptions over time. But as billing owners change roles or leave the company altogether, they often fail to pass on their billing owner role to someone else. As business needs change, the company may continue to be billed for software products they no longer need or aren't using.
There's also the potential for redundancy when you have multiple billing owners. When different teams are using different but similar software tools, that overlap in functionality could be costing you more than it should.
Productiv takes a comprehensive approach to SaaS management software and licenses so you can right-size your software tools. Companies can identify software usage at the user level and get data-driven predictions on renewals and how many licenses to purchase based on usage histories.
You can also get a bird's eye view into software redundancies and specific use cases that will allow you to cut costs without giving up valuable software tools. This is especially important when comparing two or more tools that are seemingly redundant but may provide different use cases.
Drive SaaS Value
When you're paying good money for a software tool, you want to know with confidence how much value it's delivering to your organization. This can be easier said than done, however, as value can be measured in different ways.
For example, if your goal is to increase productivity, then condensing your SaaS stack to eliminate redundancies can be a great way to do this. It allows employees to switch between fewer apps and stay focused.
Value can also take the form of proper budgeting. With Productiv SaaS management software, you can forecast whether you need to upgrade or downgrade your licensing prior to renewal.
Productiv also makes it easy to view app adoption and collaboration patterns across the enterprise. Knowing how apps are being used can help companies identify adoption gaps, user training needs, and information silos that need to be eliminated.
Plan SaaS Renewals
SaaS renewals have a lot of moving parts, from costs and licenses to specific app usage. Productiv makes it easy to manage all of the above to ensure the greatest value from your software tools.
Set up alerts for every SaaS renewal so that payments never catch you off guard. Productiv's analytics can also give you data-driven insight into whether each tool is still meeting your current needs based on adoption and usage.
Last but not least, Productiv SaaS management software compares apps and features that overlap to help teams eliminate costly redundancies. This allows businesses to downsize their app stack by standardizing specific tools rather than invest in multiple apps that do the same job.
Make SaaS Tools Work for You with Productiv
The best SaaS management software is as multifaceted as your SaaS stack: it goes beyond planning renewals and licensing and dives deeper into usage patterns and adoption rates. This need only becomes more important as you grow and develop the need to include new tools in your software suite.
Request a demo and see how Productiv helps you reduce SaaS management costs and increase productivity in a way you can measure.
[/vc_column_text][/vc_column][/vc_row]