Raise your hand if you're concerned about your employees using the apps with the highest licensing fees too much. What if we were to tell you that app usage for those applications wasn't as problematic as you thought? In fact, what if those apps were actually provisioned properly, while other apps weren't?
In this post, we'll look at actual app usage statistics pulled from Productiv research, so you can understand where to focus your attention and your app budget. We'll also show you how Productiv can help you gain deeper insight into your app usage to make the right decisions.
What Apps Worry IT Professionals the Most?
A 2020 study from Productiv revealed there are three apps that IT professionals believe are the most over-licensed:
Salesforce – 40% of respondents thought this app had too many licenses
Office 365 – 38% of respondents thought there were too many licenses for this app
Zoom – 29% of respondents thought this app was the most over-licensed at their company
Are Those Apps Actually Over-Licensed?
One of the features Productiv offers is benchmarks on app usage in a variety of industries. These benchmarks provide real-time, accurate app usage statistics on how employees engage with these apps.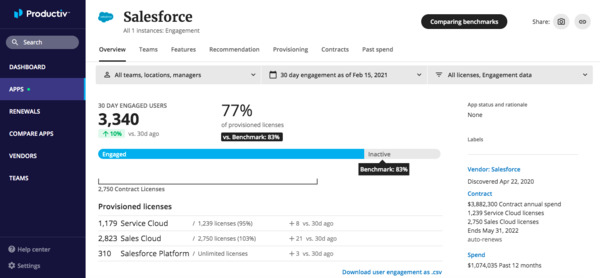 As it turns out, Salesforce, Office365, and Zoom have some of the highest average engagement rates:
Salesforce – 75%
Office 365 – 71%
Zoom – 81%
App Engagement: A Reliable Method of Gauging App Usage
What do we mean by "app engagement"? App engagement refers to three things:
How often are employees using an app?
How many employees are using an app?
Do employees use the premium features?
Based on our app usage data, the applications which IT professionals fear are over-licensed actually have some of the highest engagement levels of the apps Productiv monitors.
The average engagement rate across all applications is 47%. The three applications listed above are much higher. We'll use Zoom as an example – an average app engagement rate of 81% means that many people at an organization are using Zoom, and they're using it frequently. They're also making use of premium features.
Why Are IT Professionals Concerned about App Usage?
Judging by the data from our 2020 report on app usage, IT professionals' fears about over-licensed apps are unfounded. This raises a bigger question: why are they afraid of over-licensing in the first place?
Sadly, it's because the vast majority of companies don't have visibility into their app usage.
Our study showed only 3% of companies have complete and real-time visibility into their apps. There are leaders who recognize this is a significant problem: 78% of survey respondents agreed they needed more information on key usage metrics so they could make better decisions when SaaS app renewal time rolled around.
Moreover, 88% of executives acknowledged that a central location for SaaS management activities would:
Simplify processes
Enhance visibility
Allow teams time to focus on strategic initiatives instead of trying to manage SaaS apps
How the Enterprise Manages App Usage Today
How does the enterprise manage app usage today? The answer is, "not well."
62% of survey respondents rely on reports from SaaS vendors
58% use data based on conversations with employees
37% manually check each app they use
44% send out employee surveys
21% make educated guesses
12% don't use any methods to manage app usage
Those are problematic app usage statistics, especially when you consider the large number of SaaS applications in most organizations:
38% of companies have 50-100 apps
44% have 100-200 apps
17% have over 200 apps
If you don't understand how employees are using those apps (or if they're using them at all), you can't make the right decisions about where to invest your SaaS app spend. As a result, you wind up with the wrong number of app licenses or apps that aren't creating value.
Productiv: Giving You Real-Time Insight into App Usage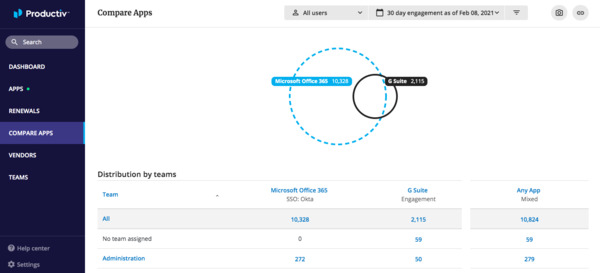 Productiv helps companies effectively manage their apps and provide them accurate, real-time data for renewal decisions by delivering analytics about app engagement. Here's how it works:
It tracks app logins and feature-level adoption
It offers insight into premium feature utilization
It shows how deeply users engage with apps
It supplies benchmarking data
It determines redundant app usage
Tracking App and Feature Usage
Productiv tracks over 100M data points each day on how employees are using applications in your organization. At its most basic level, Productiv tracks app logins. App logins show you which apps your employees are using, and how long they're spending on each app. However, that's only the tip of the iceberg.
App Engagement
Productiv enables you to see feature level adoption by team. Just because the vendor convinced you that this was a must-have feature doesn't mean you're getting your money's worth. See which teams are actually using your applications and if they are using the premium features.
In addition, Productiv measures app engagement over time. You can tell if app engagement has fallen off since implementation so you can figure out how to boost app usage statistics.
Benchmarking Data
Earlier in the post, we noted Productiv offers benchmarking data. This information is pulled from Productiv customers in a variety of industries, and it helps you set realistic app usage goals.
You can look at benchmarks across the company, or you can look at them for specific teams (for example, your marketing team's Slack adoption rate is 75%, while across the industry, other marketing teams are at a 90% adoption rate).
Redundant Apps
Companies with over 2,000 employees deploy an average of 163 apps. Not all of those apps are unique – it's likely some of them are doing the same thing.
Productiv identifies redundant apps as well as unsanctioned apps, so you can develop strategies to encourage employees to use paid apps and move away from shadow IT applications.
Get Peace of Mind about App Usage with Productiv
Productiv's real-time app engagement analytics give you peace of mind about licensing and renewal decisions. Learn more about Productiv.