3 Free Ways to do SaaS Management
[vc_row][vc_column][vc_column_text]
When it comes to SaaS management, there are two methods you could use:
A free method
Paid software
If you have a limited budget, free is obviously more appealing. In this blog post, we'll explore three free SaaS management methods, including their advantages and drawbacks.
Free SaaS Management Methods
There are three free SaaS management methods out there:
Spreadsheets
Employee surveys
Free Tools
Spreadsheets
One free method of SaaS management is to use a spreadsheet to track all of your SaaS apps and platforms. It's probably one of the simpler methods for SaaS management, at least on the face of it. All you have to do is create a spreadsheet and start entering data.
Advantages of Using a Spreadsheet
There are a few advantages of using a spreadsheet for SaaS management:
It's better than doing nothing at all
It doesn't cost very much money to create
However, there are more downsides, and the downsides are severe enough to make this method not worth considering.
Cons of Using a Spreadsheet
What's wrong with using a spreadsheet for SaaS management? Quite a bit, as it turns out.
You're entering data manually, so there's a very high chance there will be errors – there's an average benchmark rate of 1%.
Spreadsheets don't automatically update, so you don't know when changes are made to a SaaS license or when new subscriptions are added.
There are too many things to track in a single spreadsheet: the cost per subscription, renewal dates, app ownership, the app's compliance status, onboarding processes, security, and privacy.
Employee Surveys
Using an employee survey is another free SaaS management method. We're familiar with employee surveys to measure engagement or job satisfaction, so this method is a creative take on something many companies are using anyway. If you're already using a survey tool, then you're not paying anything extra. Also, there are a number of free survey tools online, and creating a survey doesn't have to take very long.
Advantages of Employee Surveys
As we mentioned previously, the first advantage of employee surveys is that they're free – either you already have employee survey software in place, or you could use a free online tool for this purpose. The second advantage is that it engages employees in SaaS management. Shadow IT has become an issue within the enterprise; a Cisco survey shows that there are 15 to 22 times more cloud applications running in the workplace than the IT has authorized. A survey could create greater transparency into shadow IT.
Cons of Employee Surveys
There are a few problems with employee surveys:
Some employees are so busy; they don't have time to fill them out.
There's no way to guarantee anonymity, so some employees refuse to fill them out.
You have no way of knowing whether employees are being truthful or not.
Employee surveys have no way of tracking actual application usage.
You can't expect employees to have all the details about a SaaS app or platform (the cost per subscription, renewal dates, etc.)
Even if you do have that information, you don't know it's accurate.
Free SaaS Management Tools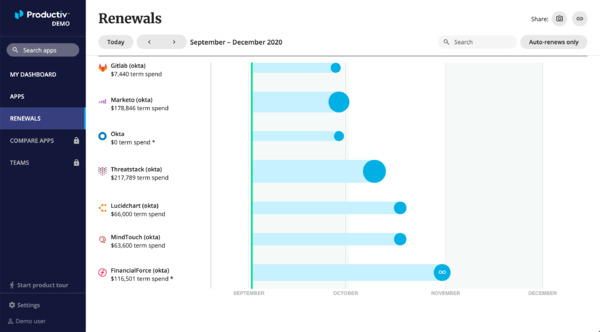 SaaS management tools are software that tracks the applications and platforms you have. There are free SaaS management tools available – let's explore the pros and cons of them.
Advantages of Free SaaS Management Tools
The biggest advantage of free SaaS management tools is that they're more accurate and reliable than the two other methods we've mentioned here. SaaS management tools integrate with your technology stack to give you visibility into the apps and platforms your organization uses. There's no manual data entry, nor is there any relying upon employees to voluntarily share which apps they're using.
Cons of Free SaaS Management Tools
Does the thought of free SaaS management tools sound too good to be true? It can be. You might be offered a 30-day free trial. Or, the features in the free SaaS management tool are limited – you may only be able to access certain capabilities as part of the free trial, which doesn't give you a true sense of how the SaaS management solution works. Moreover, you might be limited by the number of users. It's a frustrating situation for organizations that want to improve their SaaS management while staying within their budgets.
A New Free SaaS Management Solution: Productiv Essentials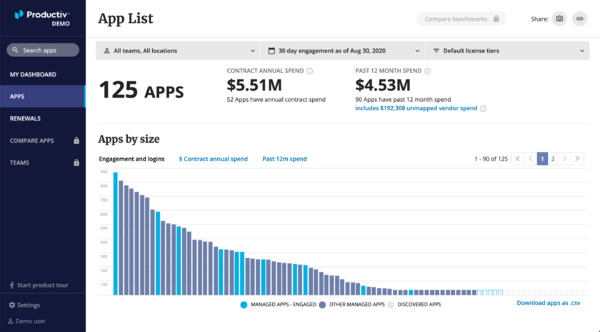 Productiv Essentials is a free SaaS management solution with easy setup and excellent out-of-the-box functionality. To provide a better understanding of how Essentials works, let's talk about what it isn't:
It's not a time-bound trial – you can use it for as long as you like
There's no limit on the number of users – you can invite the entire IT team, Finance, Procurement, and even the C-suite
There's no limit on the number of applications Essentials tracks
How Does Productiv Essentials Work?
There are three core components to Essentials:
Visibility: To gain a 360° view of your applications, Essentials allows you to connect your single sign-on system as well as finance systems so you can see Shadow IT and expensed apps.
Renewal management: Track critical renewal data to proactively manage and prioritize renewals.
Deeper insights into engagement: The key to understanding what value you're getting out of your apps is measuring user engagement. Productiv Essentials provides a taste of this capability by enabling you to measure engagement with the video conferencing system of your choice.
The Benefits of Productiv Essentials
With Productiv Essentials, you can:
Manage your apps affordably, efficiently, and effectively
Save money on renewals because you'll have the data to make better decisions
Gain deeper insights into how employees use apps and which ones they use
Essentials has ended its beta testing with satisfied users – now, we're ready to open it up to even more companies. If you want a free SaaS management tool that gives you fantastic out-of-the-box features and delivers real value without any of the disadvantages of other free tools, click here to sign up.
[/vc_column_text][/vc_column][/vc_row]